Notes Menu Launcher
Notes Menu Launcher is just a context menu enabler, making it possible to inject your own menus in the context menus (and Action-menu) in the Lotus Notes client.
You can even have cascaded menus, as shown in the screen shot below;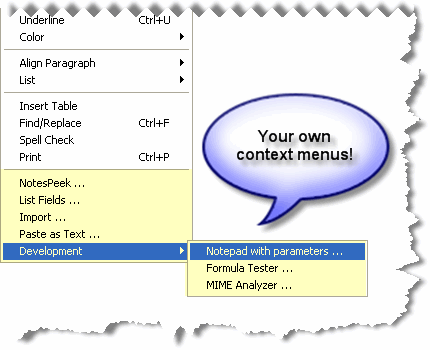 Notes Menu Launcher can launch applications, send keystrokes to applications and execute Notes agents and Notes formulas. In addition Notes Menu Launcher can inform your applications about the current selection in Notes. Is the user working in a view or a document ? Is the document in read- or write mode ? For Action menus you can even determine what field the user is working with and what field type it has!
Download and play with the trial version. In addition to several sample configurations, it also contain a small helper tool for
NotesPeek
users; NotesPeek Buddy, letting you launch and open NotesPeek on the currently selected document.
The trial version has full functionality but does only support two menus. If you ask us to provide you with a registration key, you can have any number of menus!
System Requirements
Windows 98, ME, 2000, XP or Vista or later

Lotus Notes client, release R5.0.3 or later. Note NML won't work with Lotus Notes 8 Standard Edition, only with the Basic Edition! In other words, if you want all the bells and whistles with the eclipse framework, NML won't work ... sorry!

Approximately 5.5 MB free hard disk space